About Nymåla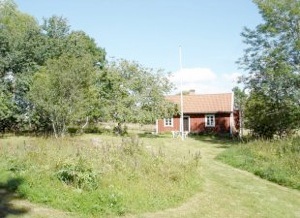 Nymåla is the name of our small property in the middle of the province of Småland. Set aside from villages, and located in a small valley at the edge of the woods, Nymåla is surrounded by meadows where the cows grass with their calves in summer.

It is located in the area where some of Astrid Lindgrens novels are set. Bullerby, Lönneberga and Emils Katthult Farm are only few kilometers away. Vimmerby, the birthplace and last residence of Astrid Lindgren is only about 20 kilometers away. A visit of the famous theme park Astrid Lindgrens World is an unforgettable experience for any child.

In Nymåla, you can see all kinds of animals living wild, such as lizards, badgers, deer and maybe even a moose. You hardly ever see any cars or human beings there.

The granite rock typical of the area sticks out of the soil between the fruit trees on our land. There are loads of wild flowers and you will find raspberry bushes growing there too.

Our house is a typical Småland house, most of which is maintained as it originally was. It is built of timber, and of course painted with the original Falu red with white corners, as it is century-old tradition in Sweden. According to the research carried out by Hultsfreds Hembygförening, the house was rebuilt sometime between 1865 and 1875. Nymåla was already inhabited by then. The first records of the Birth Registry of 1803 show a Jonas Petter born in Nymåla.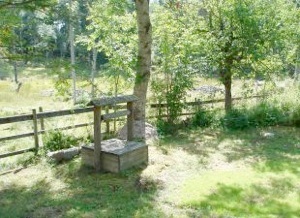 Meanwhile, the house was extended with a small annexe and now has a living space of approximately 84 m². In the year 2011, the house was modernized. Running water and an ecological 3 chamber sump hole for sewage disposal was installed.
The old well is still working. However, a new deep well was drilled to supply clean water from a depth of around 25 m. The water is very clean and of a high quality. It is perfectly safe to drink.

This is an ideal place to relax and enjoy nature, to wind down from the stress of everyday life and to clear your had again. It also makes an ideal starting-point to explore the beautiful lake area of Småland with numerous opportunities for bathing, fishing and long hikes through the unspoilt areas.

A stay in Nymåla coupled with a visit to Katthult and Astrid Lindgrens World is guaranteed to be an unforgettable experience.

Why not experience the uniqueness of this special place and book our holiday house for your next summer holiday!